Consultant Portal
Add more value to the services you offer your clients with 360° Surveys created and customized by GPS. Help your clients gain the feedback necessary to improve their organizations overall development and achieve higher success.
Surveys can be created specifically for managers, employees, and/or peers to rate performance through critical competencies specific to your client's organization. Any combination of respondents can be used for each survey, to guarantee your clients are receiving true 360° Feedback.
360° Feedback helps clients gain insight into their work ethic, strengths, and weaknesses, allowing each individual to make the fundamental change necessary to work towards improvement, ultimately increasing the quality of development of their organization.
Each survey is created using your own branding. We provide the service, while you receive the rewards (including financial)!
360° Feedback gives you the opportunity to work more closely with your clients to improve in key areas once the survey has been completed. We help run the survey, you do the coaching!
With over 200 categories and 3,000 items, GPS surveys rate key actions & behaviors using performance indicators to help pinpoint critical areas for your clients to focus on in their development. The possibilities are endless, as GPS will design each survey according to you or your client's unique competencies and specific content.
GPS uses the most current Internet applications to deploy your survey to your clients and observers. We can partner with you on the administration of your survey through:
Set-up of participants & observers
Sending e-mail invites
Tracking & sending e-mail reminders to respondents
Producing participant reports in PDF format or color hard copy using you and/or your clients branding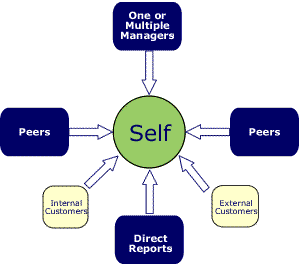 Click here for Example Report (PDF Version)
eMinder Application
Reinforces goals set by program participants. Each participant creates two goals they would like to work on over a determined period of time. Every week a reminder by email will be sent to the participant. The participant can track the actions they are doing to achieve their goals. Each participant can designate their manager and/or peer coach to help them complete their goals. The manager and/or peer coach can input their comments on the participant's progress.